About Us
Shanghai Garden Chinese Restaurant offers different varieties of Chinese cuisines that meet the demand of many people. We are located on the 485 Marion Road, South Plympton SA. The restaurant is dedicated to providing its customers the finest Chinese tastes and we should be your first stop for Chinese cuisine. Come and savour our menu which has many specialties like Vegetarian Spring Rolls, Chicken Satay Skewer and delicious Chicken Sweet Corn Soup. You may wish to order from us online that way there is no hassle for our customers to pick up the phone and call. Plus we will be glad to directly deliver to your door.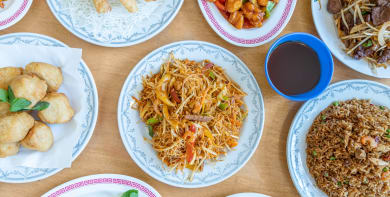 Reviews
Terry
"Always a good meal from Shanghai Garden."
25/06/2022
Donna
"Lovely fresh meal and friendly staff"
22/06/2022
Carolyn
"The food was lovely but I do wish the delivery guys would ring the doorbell. My food sat on my front step for 15 minutes. The food was very nice though."
10/06/2022
Debbie
"Although a little late however yummy food and really enjoyed, thank you"
23/04/2022
Menu
Contact Us
Find Us
485 Marion rd, South Plympton, 5038
Opening Hours
Tuesday
5:00 PM - 9:15 PM
Wednesday
5:00 PM - 9:15 PM
Thursday
5:00 PM - 9:15 PM
Saturday
5:00 PM - 9:15 PM
Please note, delivery times may vary.
We deliver to
5000 Adelaide, 5024 West Beach, 5031 Mile End, 5031 Mile End South, 5031 Thebarton, 5031 Torrensville, 5032 Brooklyn Park, 5032 Lockleys, 5032 Underdale, 5033 Cowandilla, 5033 Hilton, 5033 Marleston, 5033 Richmond, 5033 West Richmond, 5034 Clarence Park, 5034 Goodwood, 5034 Kings Park, 5034 Millswood, 5034 Wayville, 5035 Ashford, 5035 Black Forest, 5035 Everard Park, 5035 Forestville, 5035 Keswick, 5035 Keswick Terminal, 5037 Glandore, 5037 Kurralta Park, 5037 Netley, 5037 North Plympton, 5038 Camden Park, 5038 Plympton, 5038 Plympton Park, 5038 South Plympton, 5039 Clarence Gardens, 5039 Edwardstown, 5039 Melrose Park, 5040 Novar Gardens, 5041 Colonel Light Gardens, 5041 Cumberland Park, 5041 Daw Park, 5041 Panorama, 5041 Westbourne Park, 5042 Bedford Park, 5042 Clovelly Park, 5042 Pasadena, 5042 St Marys, 5043 Ascot Park, 5043 Marion, 5043 Mitchell Park, 5043 Morphettville, 5043 Park Holme, 5044 Glengowrie, 5044 Somerton Park, 5045 Glenelg, 5045 Glenelg East, 5045 Glenelg North, 5045 Glenelg South, 5046 Oaklands Park, 5046 Warradale, 5047 Seacombe Gardens, 5047 Sturt, 5048 Dover Gardens, 5048 Hove, 5048 North Brighton, 5050 Eden Hills, 5061 Hyde Park, 5061 Malvern, 5061 Unley, 5061 Unley Park, 5062 Clapham, 5062 Hawthorn, 5062 Kingswood, 5062 Lower Mitcham, 5062 Netherby, 5062 Torrens Park, 5063 Highgate, 5063 Parkside, 5950 Adelaide Airport